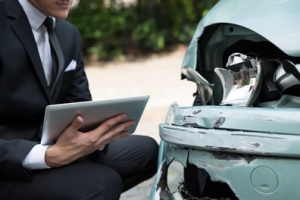 If you have a first party no-fault benefit claim or a family or a friend has one, it is important to get an attorney involved that understands Michigan insurance claims from the very beginning.
When you are involved in an accident, the insurance companies generally will not tell you the benefits that you're entitled to or how to obtain them.
You need to have an auto accident attorney from the very beginning in order to gather the evidence, have the medical records reviewed and get the doctor's notes. You will need all of this information.
There are seven buzz words that we explain to clients that are necessary in order for you to properly pursue a good no-fault claim in Michigan.
You have to prove that your injuries arise out of an automobile accident, and that your claims for benefits, are reasonable, necessary, and related to the accident. We have to be able to prove all three of those.
The next three involve care, rehabilitation, or recovery. We have to prove that your injury that arose out of the automobile accident that was reasonable, necessary, and related was also for care, rehabilitation, or recovery.
And finally, the seventh buzz word is the doctor's prescription called reasonable medical proof.
Once we obtained all of the above, it's the insurance company's responsibility to produce reasonable proof that you are not entitled to your claims. It's extremely important that this information is gathered at your behalf form the beginning. Unfortunately in today's adversarial relationship between you and your insurance company, you need to have an  attorney experienced in auto law  from the beginning.   We are capable of gathering all of that information and successfully proving a case on your behalf.
You also need to be aware of something else that insurance companies are doing today. Insurance companies are increasingly using snooping techniques on your personal social pages. We advise you, if you've been in a car accident, you either make those social pages non public, or shut them down completely.
The other thing insurance companies are doing, before they even consider paying your claim, is to have you surveyed with a video surveillance crew. If the video surveillance crew doesn't lead to something that allows them to deny your claim, they will then have you seen by a doctor. These doctors are off a very short list of doctors who routinely perform examinations for insurance companies.
Do You Need an Auto Accident Attorney for a Michigan No-Fault Claim?
In order to avoid the pitfalls of these types of activities on behalf of your insurance company, it's extremely important you have an auto accident attorney representing you from the beginning.
Contact Thomas, Garvey & McKenna, PLLC at 586-779-7810 and let us help you make sure you get all of the benefits that you are entitled to from your insurance company after having paid them all that they requested in the premiums.