Services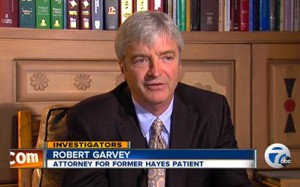 M
r. Garvey has represented hundreds of individuals and family members in situations involving injuries and wrongful death. His practice is limited to this area of law.
The preparation and filing of a case of this nature requires experience and understanding. In many cases the client is going through the process of accepting disability or the loss of a loved one.
The civil justice system serves two very important functions. First and foremost, the victim and/or family members are entitled to full compensation as allowed under the law for all injuries and damages suffered. A second purpose of the civil justice system is to change conduct. Mr. Garvey takes this responsibility very seriously. He is proud of the fact that many of his cases have resulted in better health care and safer products and practices.
While his record of jury verdicts is impressive, it is also this success that "encourages" insurance companies and corporate defendants to settle to avoid jury trial. Attorneys need to try their fair share of cases to earn the respect of the parties responsible for paying damages in such cases. From client interview through settlement or trial, the case is in capable hands.
In the end, it is the job of the attorney to place each case in the best settlement position before a decision is made as to whether a case should go to trial. In that way, the client can knowingly and intelligently decide whether to proceed with a jury trial or settle.
Juries appreciate Mr. Garvey's respect for their role in the decision-making process. "Jurors have a very difficult job to do. They take time out of their personal lives to make the legal system work for ordinary people. I have great respect for the dedication and wisdom of jurors. They do the right thing even when the job is difficult, which it usually is."
Mr. Garvey operates on a contingency fee. There is no fee if there is no recovery. Please contact the office with any further questions you have regarding our services, fees, etc.