Robert Garvey was named the Best Lawyers® 2014-15 Personal Injury Litigation "Lawyer of the Year" in the Detroit Metropolitan area.
Best Lawyers

®

Public Release Announcement
Congratulations on being included in the newest Edition of Best Lawyers®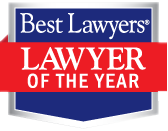 You have been selected by your peers for inclusion in the 21st Edition of the Best Lawyers in America© in the practice area of Personal Injury Litigation – Plantiffs and have been named the Best Lawyers® 2014-15 Detroit Personal Injury Litigation-Plaintiffs "Lawyer of the Year." Only a single lawyer from each practice area, from each community is being honored as "Lawyer of the Year."
Since it was first published in 1983, Best Lawyers® has become universally regarded as the definitive guide to legal excellence. Best Lawyers® is based on an exhaustive peer-review survey. Over 52,000 leading attorneys cast more than 5.5 million votes on the legal abilities of other lawyers in their practice areas. Lawyers are not required or allowed to pay a fee to be listed; therefore inclusion in Best Lawyers® is considered a singular honor. Corporate Counsel magazine has called Best Lawyers® "the most respected referral list of attorneys in practice."
Thomas, Garvey & McKenna PLLC is a Detroit personal injury law firm. We take all personal injury cases on a contingency basis so you don't pay anything unless we obtain compensation for you. Call us today at 586-779-7810, or toll free at 866-232-5775.